Specially Processed American Me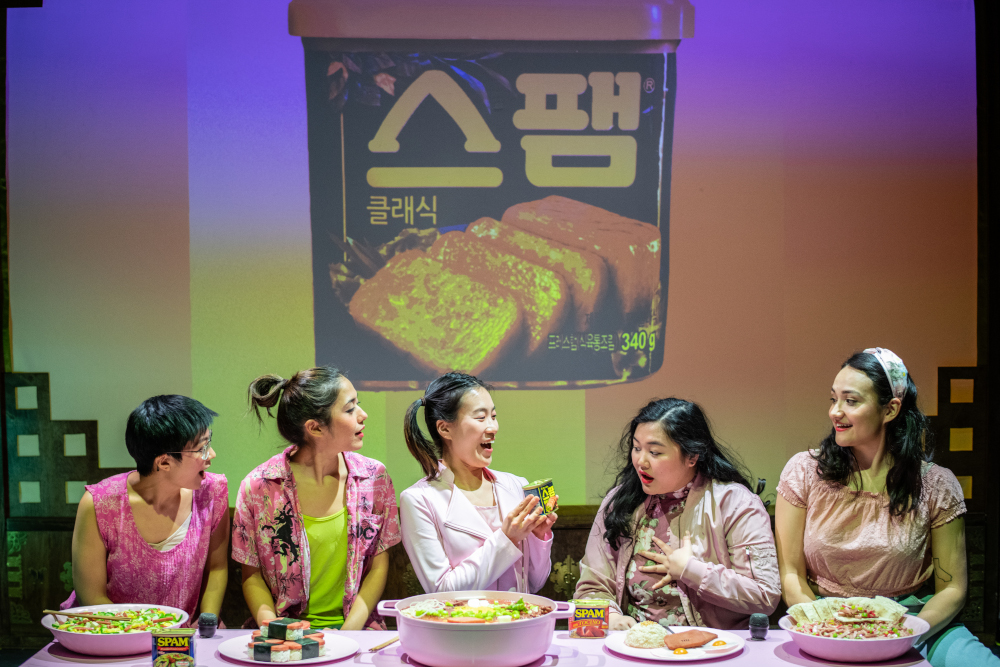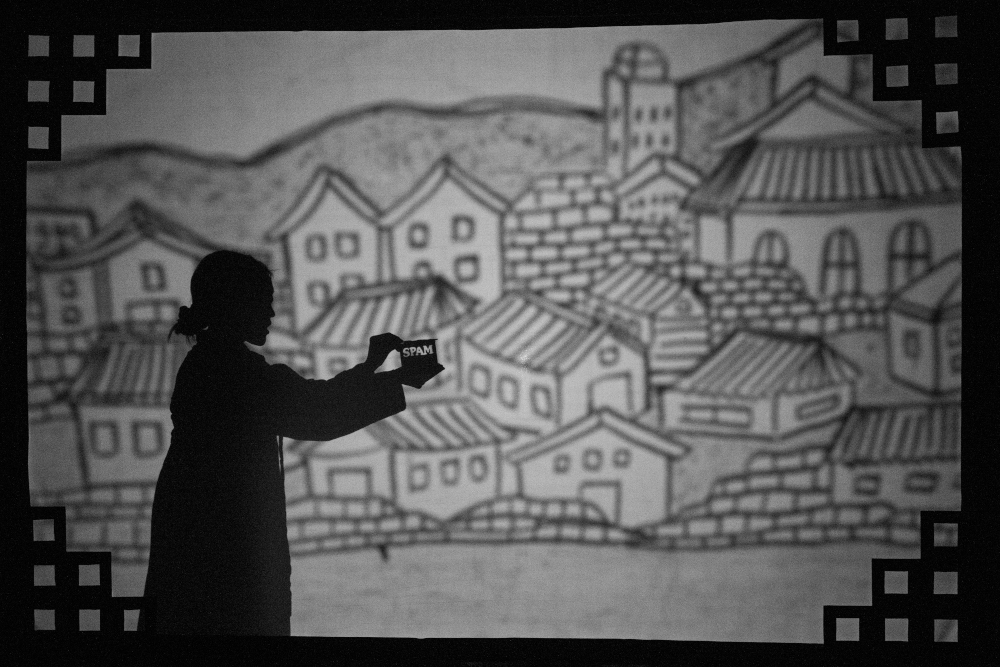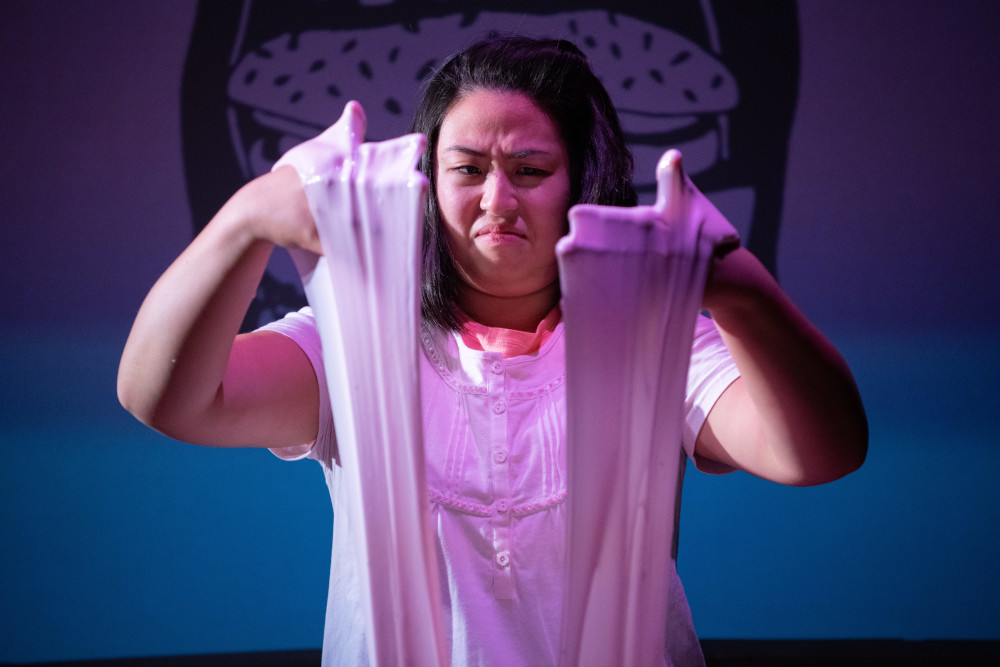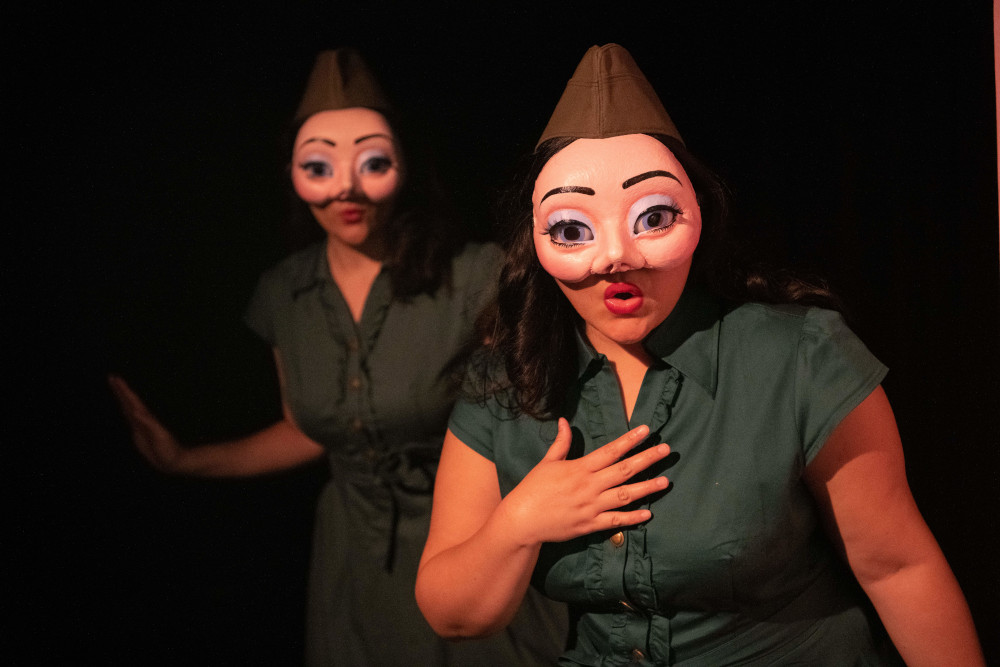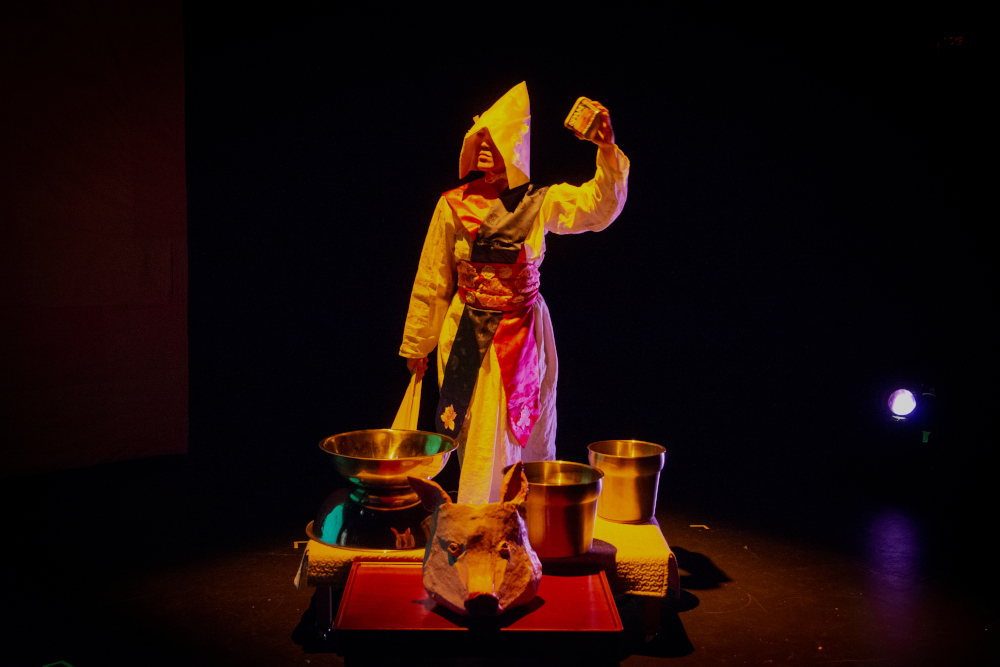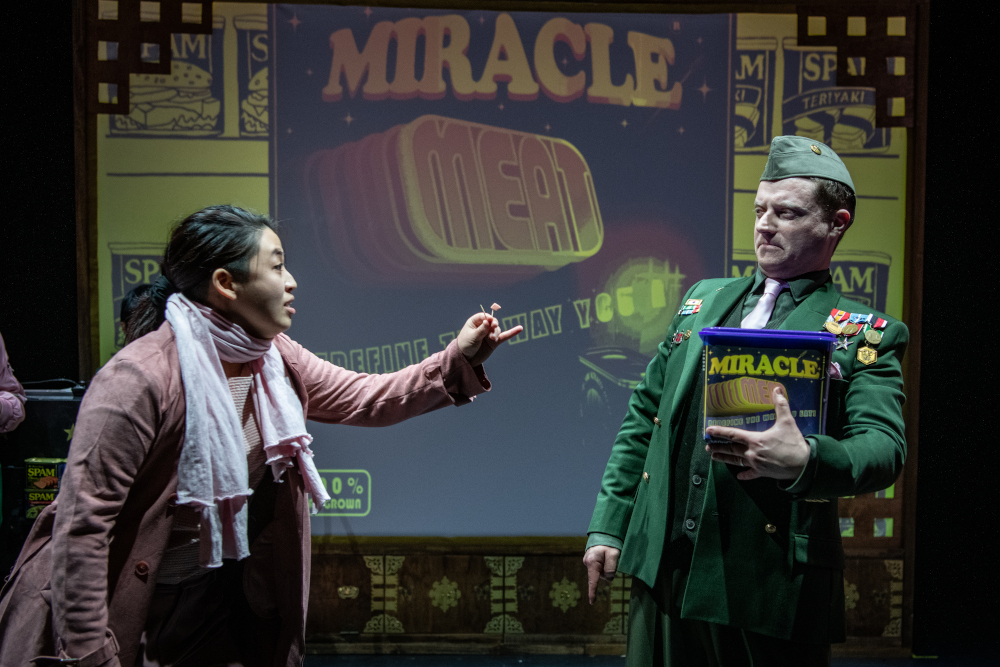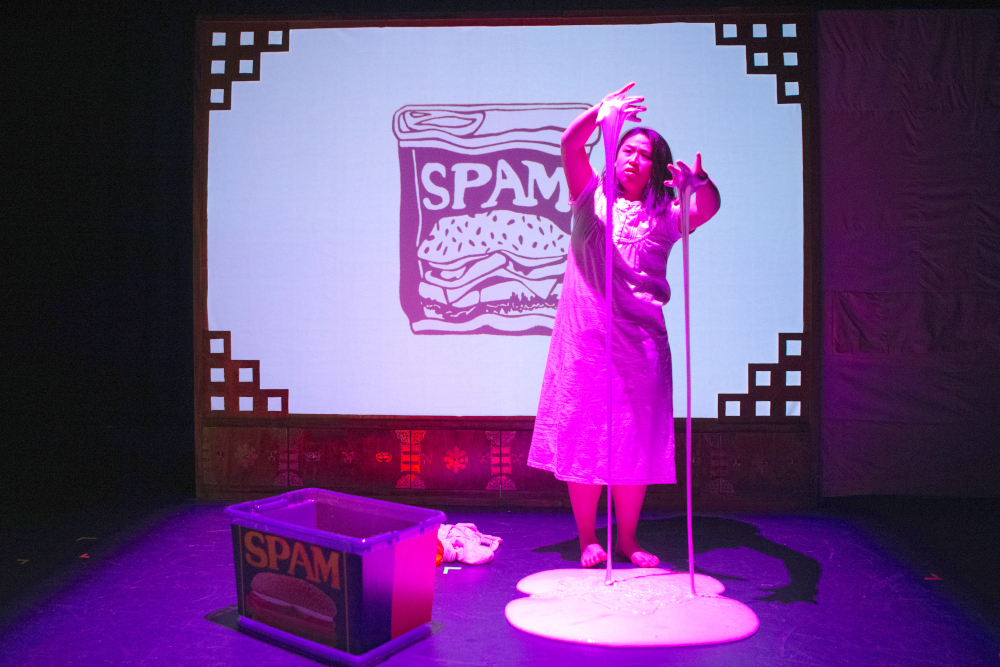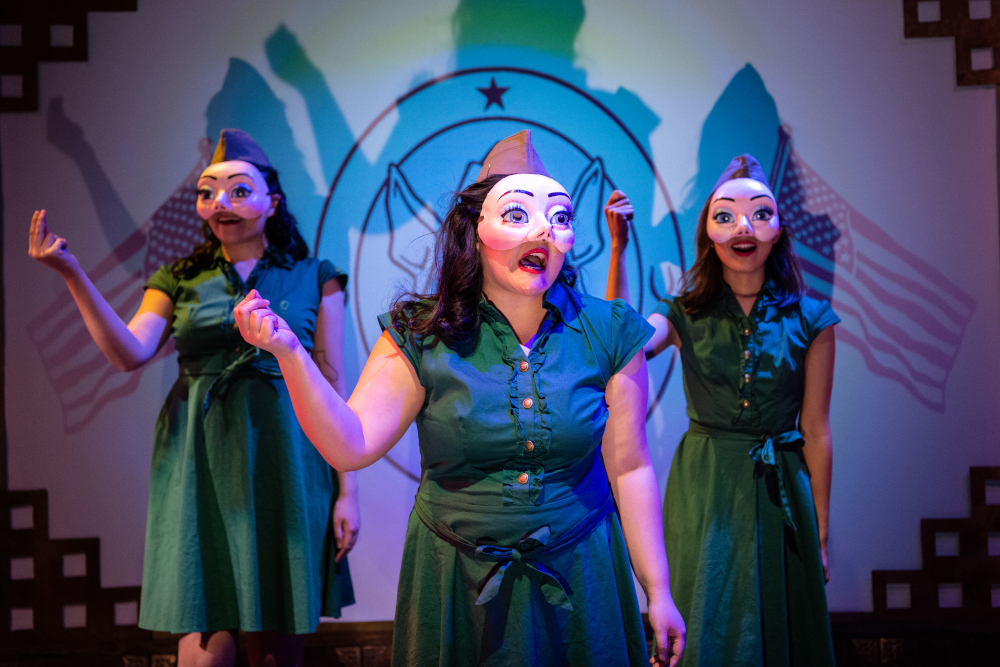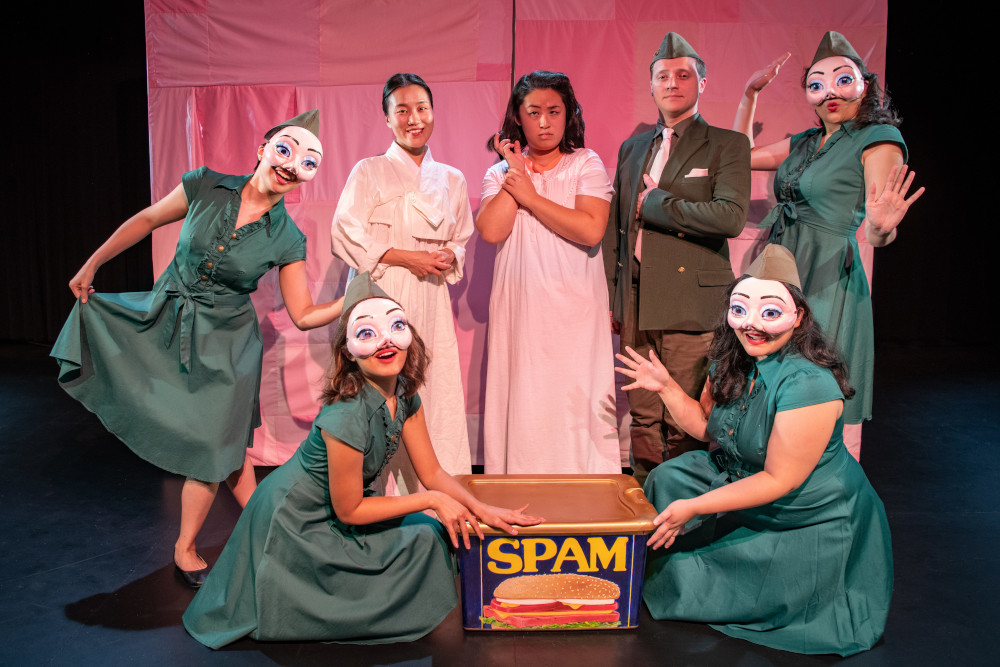 Specially Processed American Me by Jaime Sunwoo is a surreal autobiographical performance using SPAM, the canned meat, as a portal into her Asian American upbringing and her family's experiences of the Korean War. It investigates SPAM's legacy in the military, its significance in the Asia-Pacific, and its influence on Asian cuisine through music, shadowplay, and cooking. Oscillating wildly between absurd humor and sober tragedy, Specially Processed American Me is a thought-provoking exploration of one of America's most misunderstood foods.
In addition to performances, Specially Processed American Me holds food history and storytelling workshops over a communal SPAM meal. To learn more, visit speciallyprocessed.com and follow @speciallyprocessed on Facebook and Instagram.
Specially Processed American Me is currently available for booking performances, workshops, and lectures. For booking inquiries, contact jaimesunwoo(at)gmail(dot)com
The premiere production of Specially Processed American Me, produced by Free Rein Projects, Ping Chong and Company, and Dixon Place, was made possible with support from the Queens Council on the Arts' Artist Commissioning Program, Asian Women Giving Circle, the NYC Women's Fund for Media, Music and Theatre by the City of New York Mayor's Office of Media and Entertainment in association with The New York Foundation for the Arts, Brooklyn Arts Fund, MVRP Foundation, The Laundromat Project, and The Jim Henson Foundation. Specially Processed American Me was developed through BRIClab, HB Studio Rehearsal Space Residency, BAX Upstart Program, Barn Arts Residency, Leviathan Lab, and FailSafe.
The Team:
Directors: Karim Muasher, Jaime Sunwoo
Playwright: Jaime Sunwoo
Composer, Lyricist, Sound Designer: Matt Chilton
Props, Puppets, Costume Designer: Jaime Sunwoo
Projection Designers: Cinthia Chen, Jaime Sunwoo
Lighting Designer: Sarah Lurie
Technical Director: Justin Perkins
Dramaturg: Alex Lee

Handwritten
Handwritten by Jaime Sunwoo is a personal reflection on the significance of handwriting in her own life and throughout history, which was sparked by the fact that she has never had a consistent handwriting style. Contact jaimesunwoo(at)gmail(dot)com to request a private link to watch the film.
Directed, Narrated, Written, Filmed, and Edited by Jaime Sunwoo
Music and Sound by Matt Chilton
Storyboard and Puppet Design by Jaime Sunwoo and. Nadia Kim
Illustrated by Jaime Sunwoo and Sean Devare
Puppeteered by Jaime Sunwoo, Sean Devare, and Hye Young Chyun
Executive Producer Heather Henson
Producers Jessica Simon, Alex Griffin, and Jaime Sunwoo/Free Rein Projects
Co-produced by Ibex Puppetry and Free Rein Projects with support from the Green Feather Foundation
You Are The News Now
You Are The News Now explores the fragile balance of online reality during the United States' COVID-19 crisis. Through parallel monologues sourced entirely from found text, the virus's devastation comes into contrast with viral misinformation and conspiracy theories surrounding the virus's origin, government lockdowns, masks, vaccination, and racial violence. While the government and establishment media struggle to interpret the crisis for the online public, the mysterious "Q" and his army of citizen journalist "Digital Soldiers" wage war on the construction of truth itself. Co-created by Jaime Sunwoo and Matt Chilton. Commissioned by Ping Chong + Company. Experience the project here.
Equality Tea
Throughout America, women organized tea parties for meetings and fundraisers to support the suffrage movement. The Woman's Suffrage Party sold ceylon, young hyson, gunpowder, and oolong tea under their charitable brand "Equality Tea." Yet the history of tea is steeped in inequality, driven by colonialism, war, and appropriation. In her short film, Equality Tea, Sunwoo brews tea while drawing parallels between the fraught histories of the tea trade and the suffrage movement.
Created by Jaime Sunwoo. Original score by Matt Chilton, based on a 1895 suffragist anthem by Augusta Gray Gunn. Commissioned by Park Avenue Armory and The Laundromat Project for 100 Years | 100 Women.
reGENEration lab
At reGENEration lab, patients enter a gene modification clinic that promises to transform them into their ideal selves. By examining shortcomings, insecurities, and inherited traumas, reGENEration lab asks what we want to change and why. Presented at the FailSafe Festival 2019.
Ear to Ear
In Ear to Ear, artist Jaime Sunwoo welcomed passerby to press their ear against hers to listen to each other's inner sounds while taking turns eating different textured foods. While one person sampled crunchy pretzels, chewy gummy bears, and fizzy pop rocks, the other listened, getting a rare glimpse into another person's physical perspective. The experience is playful and intimate, an act of empathy through touch and sound. By pressing ears together, sounds travel from one person to the other via bone conduction, vibrations through the skull.
Ear to Ear is an attempt to see 'eye to eye' with others. To protect ourselves, we normally guard our senses around strangers. Strangers lack our trust and intimacy so we tend to avoid eye contact, are quieter, and certainly do not touch. Ear to Ear is a celebratory act to share the senses with someone you are willing to trust just for a moment. Over eighty people participated in the project during the Art in Odd Places Festival 2018. Videos of the encounters were uploaded on Instagram under #EartoEarNYC.
Earshot
Earshot is an interactive sound installation set in a bar. Earshot simulates bar crowd conversations through different audio narratives simultaneously playing at each table. As listeners stroll through the bar, they eavesdrop on moments in which old friends reconnect, drunks philosophize, lovers plot affairs and relationships fall apart. Once seated, listeners can examine characters' purses, wallets, and jackets to get a voyeuristic glimpse into their lives. Earshot is a paean to the diversity, and frequent absurdity, of the lives and stories around us every day.
Photo documentation by Taj Birkett.
See full credits and explore a show simulation at earshotplay.com.
Press: Culturebot
Demo Video: (expand)
Household
Household tells the story of a dysfunctional family of household objects– Blender, Vacuum, Lamp, Curtain, Mirror. Anthropomorphized, their individual personalities are determined by their functions. Otherwise mute, musical instruments speak for our characters with the blaring sounds of modern life. Houseplants, in marked contrast to their mechanical housemates, sing gracefully and comment on the action. The play begins with domestic tranquility, but as the characters vie for dominance of the stage, exercising their utility in incompatible ways, unforeseen repercussions threaten the harmony of the household.
Press: Yale Daily News, 02.26.14, Yale Daily News, 02.28.14
Full Credits: (expand)
Cast:
Lamp: Ava Ghezelaya
Curtain: Natalie Rose Schwartz
Vacuum: Andrew Williams
Blender: Alcindor Leadon
Mirror: Max Andersen
Plant 1: Sylvia Raye Leith
Plant 2: Shivani Bhatt
Plant 3: Mary Kleshefsky
Production Staff:
Director: Jaime Sunwoo
Producer: Jaime Sunwoo
Writer: Jaime Sunwoo
Writer: Austin Jung
Dramaturg: Austin Jung
Stage Manager: Marc DeWitt
Technical Director: Kellee Richards
Costume Designer: Lara Zipperer
Props Designer: Madeline Butler
Master Electrician: Stuart Teal
Lighting Designer: Nikki Teran
Lights Crew: Jae Shin
Sound Engineer: Timothy Follo
Assistant Sound Engineer: Tara Abraham
Musical Director: Gabriel Acheson
Music Composer: Gideon Broshy
Musician: Madison Masters
Musician: Joshua Celli
Musician: Matthew Chilton
Musician: Xinyuan Chen
Assistant Director: Zachary Bell
Assistant Producer: Andrew Wagner
Assistant Stage Manager: Kendra Dawsey
Documentation: Zach Bell and Jennifer Mulrow
Rot
A researcher at a biochemistry lab becomes infected with an unknown fungal disease, transforming into The Creature, a restless, impulsive, mischievous urchin. The Creature leaves the comfort of its rainbow fungal abode to spread its colorful spores onto the sterile spaces we all inhabit.
Documentation by Zach Bell and Andrew Wagner.
Full Video: (expand)
The Creature
An incompetent team of medical professionals tries to capture a person severely infected with an unknown fungal disease but ultimately fails due to bureaucratic setbacks. Doctors monitor the Creature's whereabouts at Grand Central, Times Square, and Brooklyn Bridge Park, handing out public service announcement flyers to warn passersby of the fungal disease. They lure the Creature into a medical clinic, where it is quarantined. The staff interrogates the public to see if they've been in contact with the Creature, and deems the disease non-hazardous after administering a questionable treatment. Footage and photos from Rot (2014) were on display at the medical clinic as part of the PSA. The performance was held during the Ebola outbreak, playing on American media scare tactics and toying with public paranoia.
Collaborators: Shon Arieh-Lerer, Jessica Park, Evan Brandon.
Documentation by Drew Gibson and Taj Birkett.
The performance and installation was hosted by Leaf Medical, a DUMBO-based medical clinic.
Video: (expand)
Safety Net
An autobiographical audio monologue about my childhood fear of sleeping alone. My mother sings a Korean lullaby throughout the story. Listeners experience the work in a dark blanket fort lit by a nightlight.
Full Transcript: (expand)
My mother and I followed a sleeping ritual. She would put her arm underneath my head and face me, singing Korean lullabies until I fell asleep. Nestled in her warm arms, enveloped by her sweet scent, and under the spell of her soothing songs, I felt at ease. For many years–eleven, to be specific– I could not sleep without this process. It was my safety net. Like a dog conditioned to salivate to the sound of a bell, I was conditioned to sleep to the sound of my mother's lullabies.
However, as I got older, it became more and more difficult to put me to sleep. My head became heavier, and her arm would become numb under the weight. When she came home tired from work, she trailed off as she sang and I shook her awake to keep her singing. If I woke up in the middle of the night, I pried open her eyelids and asked her to sing to me so I could fall asleep again. We were entangled in the net she wove.
By fourth grade, all of my friends had their own bedrooms, decorated with glow in the dark stars and posters of boy band heartthrobs taped to their walls. Their desks were cluttered with hairpins, perfume bottles, and cheap, glittery make-up kits. Board games and books spilled over their shelves. When it was my turn to invite them over, I made sure they wouldn't suspect that I was still sleeping in my mother's bed. Before they arrived, I furnished my plain, unoccupied bedroom. I threw pillows and blankets on the bare mattress and scattered magazines and books on the floor. My friends had a good time that day, but I was so busy trying to appear convincing that I couldn't enjoy it. Embarrassed, I promised myself that I would sleep alone that night.
After three tormented nights, I gave up. I would never be able to get out of the sleeping ritual. I would never get married. I'd shamelessly live with my mother forever. Then, the dooming question came to me: What would I do if my mother died? I wished that my mother would outlive me just so I would not have to lose her. But that would be unlikely. My mother would die and I would become an insomniac.
After I realized this, I never let her out of my sight. I followed her around the house as she vacuumed, did the dishes, cooked, or even went to the bathroom. If she stepped out of the house, I called her on speed dial, inventing excuses to talk to her:
"Oh, I just called because I can't find the remote."
"Sorry for calling again. What did you say we were having for dinner tonight?"
"Just one more thing– what time are you coming home?"
Like a child dragging around a baby blanket, I dragged my mother from room to room in the house. I could not even shower without her waiting outside the door. Often I'd call out "Umma!" just so I could hear her shout back "Yes?" to know that she was still near. It was my anxiety ridden form of Marco Polo.
At night, my anxiety escalated. The darkness and the silence reminded me of death. I lay next to her, making sure she was alive. I held my hand under her nose to see if she was still breathing. I stared at the folds of her pajamas, lifting and descending to the rhythm of each breath she took. When I had my eyes closed, her singing reassured me that she was still conscious. She sang until her lips became chapped and thin, until her voice creaked like an old door swinging on rusty hinges that had long since been greased. When I pried open her eyelids, her eyes remained rolled back into her head, and no amount of whining could stir her awake. When she could no longer sing, I pressed myself against the side of her body, as a reminder that she was still present. During the night, she slowly inched away and I immediately inched towards her. When she reached the edge of the bed, she would catch herself from falling off and in the morning, I'd find her on the other side.
These cautionary procedures were not enough to satisfy me. I still didn't know what I would do if my mother died. Cremation or burial is the usual option. An urn or tombstone wouldn't do me any good though. I needed a better solution. In the late hours of the night, paranoid as ever, I discovered the closest alternative to preserving her living body: I fantasized that I would tape record my mother's lullabies, send her to a taxidermist, put the tape recorder into her stuffed body, and sleep with her preserved cadaver.
For many months, this solution comforted me, that is, until I went to a field trip to the Museum of Natural History with my sixth grade science class. I walked through the halls of the dead zoo, examining each diaroma. Every animal was perfectly preserved, positioned naturalistically as if it were stuck in time. A flamingo leaned over, just about to take a sip from a realistically-painted pool of water. A chimpanzee stood among her young, grooming them, surrounded by a lush assortment of synthetic plants modeled after those you would find in a rainforest. This was taxidermy at its best. Still, I was not satisfied. These animals, though carefully intact, felt lifeless. They seemed like sculptures to me, free to gawk at, inanimate and unresponsive. I walked over to a lion, stared into its black marble eyes, and cried. That day, I learned that nothing could replace life. No methods could ever let me keep my mother. My mother would die, and I would have to deal with it.
That night I crawled into my bed and wrapped myself in the blanket. I waited until my body heat soaked into the sheets, insulating the warmth around me. With my right arm underneath my neck, I filled the empty space between my shoulders and pillow. I found a new lullaby in the steady stream of cars I could hear through my window. In time, my once-cold, alien sheets would smell familiar, and I would be free.
For more writing, visit https://medium.com/@jaime.sunwoo